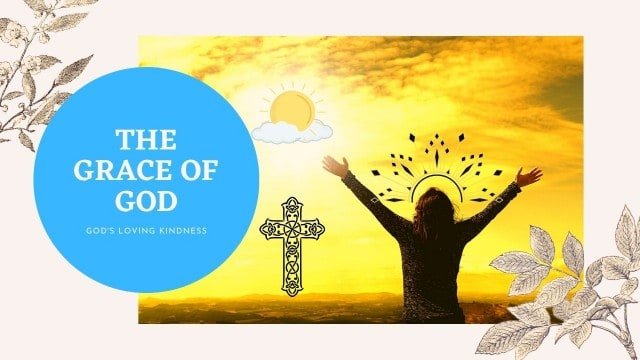 The grace of God is the unmerited favor that can not be obtained through good works. The lifestyle we embraced before we came to the knowledge of the truth, was futile and unpleasing before God's sight. However, He still loved us despite us being wicked and stiff-necked and this indeed is grace.
"But God showed his love for us in that while we were still sinners, Christ died for us. Since, therefore, we have now been justified by his blood, much more shall we be saved by him from the wrath of God." 
(Romans 5:8-9, NIV)
I am a product of God's grace and mercy. He saved me when I was a wretch and stinking. In Him, I have redemption through his blood. The forgiveness of my trespasses, according to the riches of God's grace, which he has lavished upon me, in all wisdom and insight making known to me the mystery of His will, according to His purpose. Which He set forth in Christ. By grace, we have been saved through faith. And this is not our own doing; it is the gift of God, not a result of works, so that no one may boast. For we are His workmanship. We were created in Christ Jesus for good works, which God prepared beforehand, that we should walk in them.
Advertisement
A biblical example of the grace of God
Mephibosheth realized this concept better when king David showed him mercy on behalf of his father Jonathan despite how king Saul treated David. This indeed is grace taking your enemy's son and welcoming him to dine with the king.
"And Mephibosheth the son of Jonathan, son of Saul, came to David and fell on his face and paid homage. David said, "Mephibosheth!" And he answered, "Behold, I am your servant." And David said to him, "Do not fear, for I will show you kindness for the sake of your father Jonathan, and I will restore to you all the land of Saul your father, and you shall eat at my table always." And he paid homage and said, "What is your servant, that you should show regard for a dead dog such as I?" 
(II Samuel 9:6-8, NIV)
Indeed, God saved me when I was a" dead dog", deep in sin. He stretched His hand of mercy and lifted me from that slimy pit and from the muddy clay. He set my feet on the rock and gave me a firm place to stand. Is this not grace?
Advertisement
My struggle with porn addiction
My first exposure to pornography was in lower primary school probably class 2 or 3. However, it never affected me because I never understood what I saw. My parents divorced when I was in class three-term two. This left my young brother and me in despair, living with my step-dad, who went ahead and married a second wife.
I was in class five when I come across some weird videos. I come from school and come across this CD in the house which I thought was a great movie. Only to my surprise, I realized it was a one and half-hour pornographic tape. This is where it all began.
The struggle is real
From that day henceforth I would come from school and lock myself in the sitting room and watch porn for hours until it became a regular habit. I found myself obsessed with porn and lust, and this went on for a while. This thing took a new turn and in classes five and six found myself masturbating and lusting after women with great passion. I would sneak in the bathrooms and enjoy watching women bathing.
When I was in class seven, my parents went broke and we had to go up-country. In this new environment, there were no facilities like in the urban center, so I would spend most of my time in the field looking after the flock. I was desperate for sex and still obsessed with porn, lust was killing me. Here things took a new turn and found myself fornicating. But fornication never satisfied me. I was beyond that and ended up being more perverse and tried bestiality for quite some time, but also found it boring. I was losing it and no one ever knew it because it was top-secret.
After trying all these things, I still yarned greatly for something deep, one that could stimulate me to the very extreme and it almost led me to a very weird level.
Advertisement
I would later find myself on the internet live streaming porn for more than 20 hours continuously and could not even erect. It's not because I had erectile dysfunction, but the content could not stimulate me at all because I yearned for something hard. I could even download some porn to watch later. Oh, God!
How God delivered me
Lust is the stronghold that the enemy intended to destroy my life, the inherent potential, and the call of God in my life with. I remember when I was a child, I would confess that I will become a pastor someday, little did I know this confession would cost me everything. This dream is what the enemy tried to destruct and even kill.
"The thief comes only to steal and kill and destroy. I came that they may have life and have it abundantly."
(John 10:10)
To cut the story short, I had hit the walls and I knew I was sick and that I needed a savior who would heal my heart and soul, and at that moment I found Him, I found Jesus, He was always there for me waiting for me to welcome Him in my life so that He might heal and reroute my destiny for His glory.
Today am free, saved, and greatly loved and this indeed is the grace of God. I have tested and I know the LORD is good.
"Oh, taste and see that the LORD is good! Blessed is the man who takes refuge in him!" 
(Psalms 34:8)
I am not ashamed to testify of His grace for it is the power of God for salvation for everyone who believes. Today am justified by faith; to mean, just as if I had never sinned, and this is grace.
Advertisement