How can we focus on Jesus in the midst of trials, and in a such corrupt and noisy world?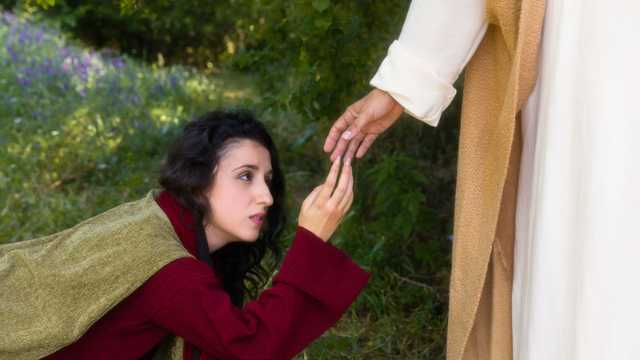 Jesus wants us as his children, as the church to focus on Him and nothing else. He wants our gaze, our eyes to be fixed on Him, it doesn't matter what you're going through currently.
Related: Should we worship Jesus or God?
It doesn't matter what circumstances are surrounding you at the time, whether your finances are good, or whether you have a job. But Jesus wants us to fix our gaze on Him. And I'll be sharing a testimony I have from a few years ago. 
I remember it was a very tough season for me at this time. I was still on campus and you know how it can be challenging. I was having an issue in a very specific area of my life and I was trusting God for a breakthrough in this.
I was really struggling, as it was a time when God was testing my faith to see if I can really trust and rely on Him. And the results were really astonishing to me.
Set your minds on things above
The Lord kept reminding me every day, Joshua, look to me, trust in me, raise your eyes to where I am seated in the heavenly places, let your attention, your inclinations be on me and not on earthly things.
And I remember this used to happen every day. Not just every day, but almost every single hour. I have this bible application installed on my laptop. It shows different verses from Genesis all the way to Revelation.
Every time I used to look at my screen, I could see the same verse from Colossians 3:2-4. And it kept showing every time I open my laptop; it was the same verse which is unusual because the application needs to be showing a different verse after every few seconds. 
Set your mind on things that are above, not on things that are on earth. For you have died, and your life is hidden with Christ in God. When Christ who is your life appears, then you also will appear with Him in glory. 
Colossians 3:2-4
Colossians 3:2 was a very dominant verse that kept showing up. At this time, I was so obsessed with my need, so obsessed with myself. That's why I always tell God to break every vain obsession in my heart. Because we have this tendency to succumb to our carnal nature. 
By the end of the test, I almost missed God. I was so obsessed with myself that I almost missed the entire purpose of the testing. And I thank God He saved my soul from foolishness, from obsession. This is very common for every Christian out there. Maybe you're currently having financial challenges and you're trusting God for a financial breakthrough, and you are not seeing Him coming through for you. 
God knows what you need
Jesus taught in Matthew 6:8, that "your Father knows of your needs even before you ask Him". God knows. that's what you need to be aware of. And the reason He has allowed you to be in such a circumstance currently, in a season like this, it's not because He wants you to suffer.
Why would your father want you to suffer? It doesn't impress God seeing you suffering. Even your biological father will not want you to suffer. But God has allowed it for a greater purpose. For your own spiritual growth and for spiritual awakening. It's not to punish you, it is to build you.
And sometimes, as human beings, we have the tendency to succumb to our carnal nature, and we fail to trust in God. As Christians, sometimes we find ourselves trusting God partially and then trusting our own abilities, which by the end of the day proves foolish. 
God's timing is the best
If you have to trust in God, let your hope be in Him alone. I love what David declared in Psalms 69:13, "But as for me, my prayer is to you, O Lord. At an acceptable time, O God, in the abundance of your steadfast love answer me in your saving faithfulness".
He doesn't demand it now, because that's the kind of tendency we have which is childish.
In fact, if you read Psalms 69, you will realize that at this time David was being mocked by his enemy. He was being accused of things he had no idea of, but his prayer was simple that at an acceptable time, God will answer him.
And I wish this would be the prayer of every one of us, no matter what we are going through, whether our marriages are in turmoil, whether our finances are staggering, whether we are jobless, or have health issues.
God knows. Jesus taught in Matthew 7:9-11 that "which one of you, if his son asks him for bread, will give him a stone? Or if he asks for a fish, will give him a serpent? If you then, who are evil, know how to give good gifts to your children, how much more will your Father who is in heaven give good things to those who ask him!".
Let your affection be on Jesus, on the thing that is above. In Philippians 4:6-7, the Bible declares "Do not be anxious about anything, but in everything by prayer and supplication with thanksgiving let your requests be made known to God. And the peace of God, which surpasses all understanding, will guard your hearts and your minds in Christ Jesus".
Just be still!
God will give you such a stillness you have never experienced in your life. That's why the Lord says again in Psalms 46:10 "Be still, and know that I am God. I will be exalted among the nations, I will be exalted in the earth!"
To wrap it up, allow me to share the last verse from Psalms119:36-38 "Incline my heart to your testimonies, and not to selfish gain! Turn my eyes from looking at vanities; and give me life in your ways. Confirm to your servant your promise, which is for those who fear thee".
May God turn your eyes away from vanities, from foolish things, from obsessions, and may He give you abundant life. And above all, may God confirm and fulfill His promises in your life. May God bless you as you seek to incline your heart, and eyes your heart to Him.