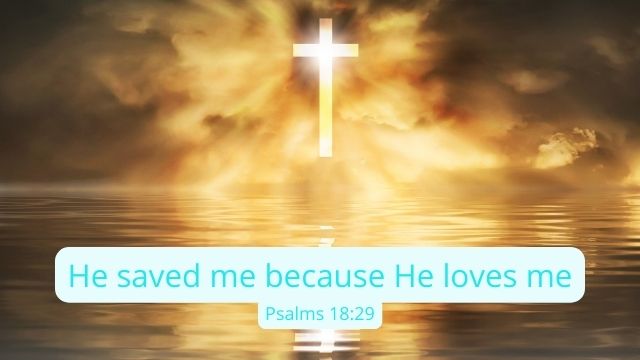 Have you ever wondered why you should be saved? Today we will be discussing the 8 reasons why you should be saved and how to receive Jesus in your heart.
Salvation is a free gift from God to humanity, yet many have rejected it and others take it presumptuously. Most people don't want to believe in Christ because that will mean they have to leave their passions and be accountable to God. They are not willing to give up their passionate lusts; hence don't want to have any moral obligation to God and His laws.
Reasons why you should be saved
1) Your soul is precious to God.
The soul of man is eternal and very precious to God; this is why He gave His only Son for our redemption. The Bible declares that we have not been redeemed with corruptible things but with the precious blood of Jesus Christ. God had to give what was most precious to Him to save our precious souls. Psalms 49:7-9 says that "no man can ransom himself, or give to God the price of his life, for the ransom of his life is costly, and can never suffice, that he should continue to live on forever, and never see the pit."
2) The concept of legal rights.
God has no legal right to operate in your life through His Spirit if you are not born- again. You belong to the world and its god. This way you restrain Christ Jesus from helping, despite the price He paid for your soul. You have to be willing to give Him that access as God does not impose Himself on anyone.
Paul taught that we do not belong to ourselves; as we were bought with a price. Hence, if you don't belong to Christ and His flock; then someone else owns you and you are a slave to sin. In Titus 3:3, the Bible declares "At one time we too were foolish, disobedient, deceived and enslaved by all kinds of passions and pleasures. We lived in malice and envy, being hated and hating one another." This is the god we served as unbelievers: the god of hate, lies, and lust.
The Apostle Paul sheds some light on this in 2 Corinthians 4:4 when he said, "The god of this age has blinded the minds of unbelievers, so that they cannot see the light of the gospel of the glory of Christ, who is the image of God." Satan is blinding you by hardening your heart from receiving the word of God with meekness, hence, filling your mind with delusions.
3) Because you have no excuse about God's existence.
Men have come up with all kinds of theories concerning creation and God. They do not want to acknowledge God's existence and His sovereignty; because this automatically means they have a moral obligation to Him, hence they see it as a threat to their freedom. People just want to live in sin and do whatever they please, hence justifying their ignorance. They want to determine their own destinies and pursue pleasures that corrupt their minds and destroy their souls.
In Romans 1:18-21, the Bible declares "The wrath of God is being revealed from heaven against all the godlessness and wickedness of men who suppress the truth by their wickedness, since what may be known about God is plain to them, because God has made it plain to them. For since the creation of the world God's invisible qualities His eternal power and divine nature have been clearly seen, being understood from what has been made, so that men are without excuse. For although they knew God, they neither glorified him as God nor gave thanks to him, but their thinking became futile and their foolish hearts were darkened."
From this, we know that no one has an excuse for God has made Himself known to all even through creation. We only pretend to be ignorant of this profound reality and as a consequence, our minds are darkened and our hearts hardened.
4) Nothing good exists in your carnal nature.
There is always a battle between good and evil in the soul of everyone. Naturally, our carnal selves are rebellious to God's law, hence, we can not please God in this nature. (Romans 8:7-8). Paul clearly illustrates this battle using himself as an example in Romans 7:18-29, "I know that nothing good lives in me, that is, in my sinful nature. For I have the desire to do what is good, but I cannot carry it out. For what I do is not the good I want to do; no, the evil I do not want to do this I keep on doing."
In verses 24-25, he acknowledges that he is a wretched man and that only Christ can redeem him. "What a wretched man I am! Who will rescue me from this body of death? Thanks be to God through Jesus Christ our Lord! So then, I myself in my mind am a slave to God's law, but in the sinful nature a slave to the law of sin."
5) Those who deny Christ are already condemned.
Those who reject Jesus Christ as their Lord and savior heap condemnation upon themselves. As they are refusing to acknowledge God's divine sacrifice for the redemption of humanity.
"Whoever believes in him is not condemned, but whoever does not believe stands condemned already because he has not believed in the name of God's one and only Son. This is the verdict: Light has come into the world, but men loved darkness instead of light because their deeds were evil. Everyone who does evil hates the light, and will not come into the light for fear that his deeds will be exposed. But whoever lives by the truth comes into the light, so that it may be seen plainly that what he has done has been done through God." 

John 3:17-21
6) Salvation is only found in Jesus Christ.
There are many religions and gods in the world. But I want to make it clear that salvation; the redemption of your soul is found in no one else, for there is no other name under heaven given among men by which we must be saved. ( Acts 4:12). Again, "there is one God, and there is one mediator between God and men, the man Christ Jesus, who gave Himself as a ransom for all, the testimony to which was borne at the proper time." ( 1 Timothy 2:5-6).
The Bible makes it clear that Jesus is the only way to The Father. (John 14:6). The article 'the' means definite; with no exceptions as there is no other. It describes a person who is exclusively worthy of attention and Jesus Christ is worthy of all your attention.
7) You should be terrified of the reality of Hell.
Hell is real and a horrible place where rebellious spirits are tormented forever. Some of us came to Christ by simply being convicted in our hearts when we heard the gospel preached to us, either through music, a sermon, a video clip, or other means. However, there are some who must be terrified even by means of fear for their spirits to grasp the reality of sin and its destination. For in that place there is gnashing of teeth and eternal suffering and horror.
Then, what should we do about this matter? The Bible declares in Proverbs 24:11, that we should "Rescue those being led away to death; hold back those staggering toward slaughter."
8) God's wrath is real.
Most of us are too accustomed to one phase of God's nature; being the all-loving and caring Father. However, He described Himself as the Lamb, yet He is the Lion.
God is a righteous judge who will punish wickedness and every act of disobedience. He shall judge the wicked and assign them hell as an eternal destination. God has offered to us Christ as a ransom and an escape from His wrath. For this reason, put on the garment of salvation, which is a free gift from God.
What you need to do to receive Christ.
Having known this mystery, you should have a similar response to the hearers of Peter's bold teaching on the day of Pentecost. "When the people heard this, they were cut to the heart and said to Peter and the other apostles, "Brothers, what shall we do? "Peter replied, "Repent and be baptized, every one of you, in the name of Jesus Christ for the forgiveness of your sins. And you will receive the gift of the Holy Spirit."' (Acts 2:37-38).
Therefore, today when you hear His voice do not harden your hearts as you did in the rebellion, during the time of testing in the desert, where your fathers tested and tried me and for forty years saw what I did. (Hebrews 3:7-9). The Israelites rebelled against God in the wilderness by grieving His Holy Spirit, and as a consequence, He turned to be their enemy and Himself fought against them. (Isaiah 63:10).
Let God break your heart of stone and create in you a heart of flesh that breaks before Him. "I will give you a new heart and put a new spirit in you; I will remove from you your heart of stone and give you a heart of flesh. And I will put my Spirit in you and move you to follow my decrees and be careful to keep my laws."
Today, Jesus is knocking at the door of your heart, open it for Him that He may come in and dine (have fellowship) with you and you with Him. (Revelation 3:20). He says if you keep His word and obey Him, He and The Father will come in and make your heart their habitation. (John 14:23).