The old adage, that unity is strength is one that bears very profound truth, and it is also true to say that division weakens a system or organization. Psalms 133 describes the Psalms of David where the author emphasizes this same concept of unity.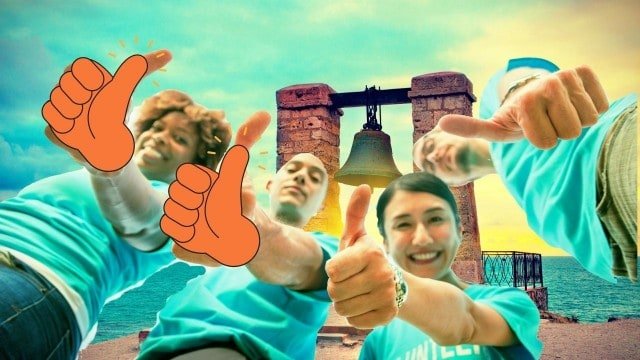 Behold, how good and how pleasant it is for brethren to dwell together in unity! It is like the precious ointment poured on the head, that ran down on the beard, even the beard of Aaron [the first high priest], that came down upon the collar and skirts of his garments [consecrating the whole body]. [Exod. 30:25, 30.] It is like the dew of [lofty] Mount Hermon and the dew that comes on the hills of Zion; for there the Lord has commanded the blessing, even life forevermore [upon the high and the lowly]. 
Psalm 133:1-3
It's in the dwelling of brethren in unity, where The LORD commands His blessings, which is likened to the anointing of oil.
I once observed a church that was divided because of greed for power. The whole thing really broke my heart as I saw the so-called "men of God" throwing restraint in their struggle for recognition and power, how dumb we have become.
The old adage is true also when we say, strike the shepherd and the sheep will be scattered. The people who suffer out of such 'Scrabble' for power are the sheep who are then misled and taken advantage of. The LORD would say, "my people are like sheep without a shepherd, scattered on the mountains." [II Chronicles 18:16].
Again, James in the book of James 4:1 poses a critical question, "what causes wars among you?" He then offers us an answer.
James 4:1-5
[1]WHAT LEADS to strife (discord and feuds) and how do conflicts (quarrels and fighting) originate among you? Do they not arise from your sensual desires that are ever warring in your bodily members?

[2]You are jealous and covet and your desires go unfulfilled so you become murderers. [To hate is to murder as far as your hearts are concerned.] You burn with envy and anger and are not able to obtain [the gratification, the contentment, and the happiness that you seek], so you fight and war. You do not have, because you do not ask. [I John 3:15.]

[3][Or] you do ask [God for them] and yet fail to receive because you ask with wrong purpose and evil, selfish motives. Your intention is [when you get what you desire] to spend it in sensual pleasures.

[4]You [are like] unfaithful wives [having illicit love affairs with the world and breaking your marriage vow to God]! Do you not know that being the world's friend is being God's enemy? So whoever chooses to be a friend of the world takes his stand as an enemy of God.

[5]Or do you suppose that the Scripture is speaking to no purpose that says, The Spirit Whom He has caused to dwell in us yearns over us, and He yearns for the Spirit [to be welcome] with a jealous love? [Jer. 3:14; Hos. 2:19.]

Solomon in his wisdom describes the six things The LORD hates [proverbs 6:16-18] and the seventh is an abomination to Him.[proverbs 6:19]
[19]A false witness who breathes out lies [even under oath], and he who sows discord among his brethren.

Proverbs 6:19
Those who cause division among brethren, family, marriage, relationships are indeed an abomination and a curse.
The wisdom portrayed by being united
It is true to say that a wise, loving, and true mother will always seek to protect rather than divide. Using the analogy described in I Kings 3:16-28, where the two harlots had come to King Solomon concerning their sons, Solomon was able to discern the true mother as she was willing to let go of her son rather than divide him and see him die. She sought to protect him instead. A true church will also seek to protect and not divide.
Why Unity?
Solomon in Ecclesiastes 4:9-12 describes the essence of embracing Unity.

"Two are better than one because they have a good [more satisfying] reward for their labor; For if they fall, the one will lift his fellow. But woe to him who is alone when he falls and has not another to lift him up! Again, if two lie down together, then they have warmth; but how can one be warm alone? And though a man might prevail against him who is alone, two will withstand him. A threefold cord is not quickly broken.

Ecclesiastes 4:9-12