We are supported by our readers, consider donating $1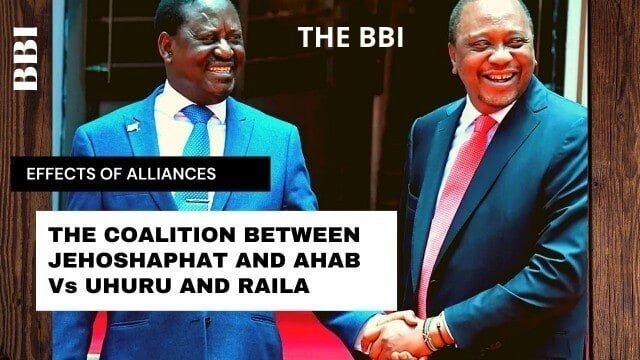 Similarities between the political coalition of Ahab and Jehoshaphat to that of Uhuru and Raila.
There are many examples of political alliances described in the scriptures. The best example is that of Ahab and Jehoshaphat. Ahab was a ruthless king and an idol worshipper. He had taken Jezebel as his wife who came with 450 false prophets of Baal and 400 of Asherah.
Their sin brought great abominations to Israel as they led the people astray. This same Ahab killed Naboth for a piece of vineyard that he had to refuse to sell to the king. This was after Jezebel his wife incited him. A good example is the political alliance between Raila and Uhuru.
On the other hand, Jehoshaphat was a righteous man. He had pulled down all the high places of worship in Judah and cleansed the temple of idol worship. However, he indulged himself in a stupid alliance with Ahab through a marriage coalition between his son and the daughter of Jezebel. He united himself with darkness the very thing the Bible warns us of. [2 Corinthians 6:14-17].
This marriage coalition ensnared Jehoshaphat to be involved in Ahab's affairs. He had no power to resist Ahab anymore. The same way we are stripped of our freedom whenever we are involved in sin or ungodly alliances with unbelievers.
A prophetic word for Kenya concerning the BBI and the political alliance of Raila and Uhuru.
It was on November 2020 when I had just cleared my exam and traveled back home, as I was standing in our compound thinking about the future of our nation Kenya, a word of wisdom/ knowledge/ revelation come to me. It was concerning our government and the constitutional review, the BBI.
I saw how similar the political alliance/ coalition between Raila and Uhuru was to that of Ahab and Jehoshaphat. [2 Chronicles 18;1-34, 19:1-3].
The alliance was detestable before God because Ahab didn't worship the living God. Jehoshaphat had indulged himself in a war that was not his. What made it worse is that he had allowed his son to take a wife for himself from the house of Ahab and Jezebel the abomination of idolatry in Israel.
I don't want to say anything about his son's marriage. To make it worse Uhuru has involved himself in a battle that is not his. Raila has dragged him into it all in the name of 'peace' and 'brotherhood'.
The consequences of political coalitions in Kenya
Jehoshaphat was wounded for involving himself with Ahab in a war that didn't belong to him. His character and name were also "wounded". When they went to the battlefield, Ahab strategically placed Jehoshaphat as the enemies' target. Jehoshaphat had no idea of what was happening. Ahab had disguised himself as a common soldier to protect his identity. He thought it was a great idea. However, little did he know that this was his final day and that his craftiness was useless.
We know that the enemy attacked Jehoshaphat thinking he was Ahab. They were only interested in destroying Ahab. Jehoshaphat after crying to the Lord for help escaped death. However, he ended up wounded. By the end of the day, he went home as a loser and shameful of his stupid actions. The same day Ahab was shot and bled to death because of disobeying God's word.
My final thoughts on the BBI | BBI will fail | Raila will never be president.
I personally believe that the BBI will fail terribly. I don't believe it is in the perfect will of God, nor has the interest of the people at heart. Many false prophets like Zedekiah the son of Chena'anah have risen to give false words of triumph out of their own mind and dark visions and dreams. They will be exposed eventually and will drink from God's cup of wrath. This is because they have misled the sheep of His pastures.
I believe there is nothing that involves Raila that will ever prosper. He is only a troublemaker and a blood-thirsty man, full of himself. He is not a worshiper of Yahweh; he is like Ahab.
By the end of the day, Uhuru's reputation will be hurt, due to this alliance. However, I believe God will still spare his life just as He did with Jehoshaphat king of Judah. Some good was found in Jehoshaphat, and for this reason, he was spared from God's wrath that had gone out against him.
Disclaimer
I am just a student of the word of God. And I don't know why it was revealed to me, however, not mine but the will of God prevails. I believe in my spirit that the word I received was from the Spirit of God. I am not imposing my own narrative of the BBI. For that case let the LORD be true and all men liars. [Romans 3;4].